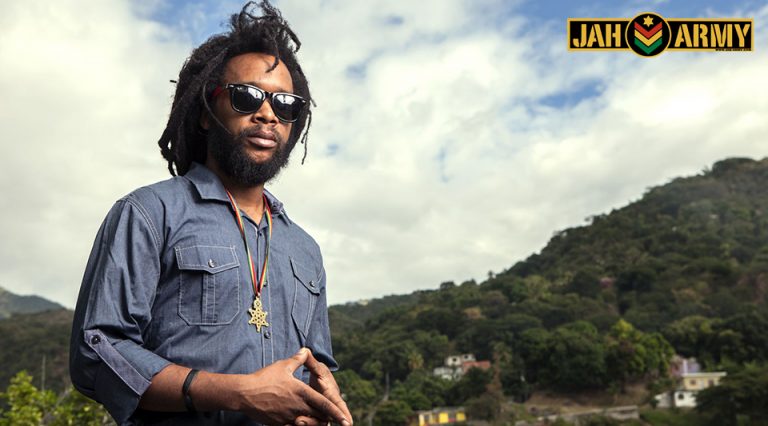 Micah Shemaiah conjuring his Roots Vision
Album Review: Micah Shemaiah: "Roots I Vision"
Usually Reggae biznis is of fast moving nature. Producer X builds a riddim, singer Y rides it and yardie Z leaks it on the internet. Pull up, my selector! If riddim and/or tune is successful the artist hardly has time to cross an ocean before the next big tune hits the dance.
That doesn't apply for Micah Shemaiah, the humble kingstonian Rasta of the Twelve Tribes Of Israel. He was keeping his cool even when the soundsystem anthem "Dread at the control" was creating a big stir as a flat-chested mp3 on the internet and released it only two years later. But then in a proper way as a limited 7inch vinyl including brilliant artwork by London streetartist Mau Mau, often dwelling close by and escaping cold UK winters. That was 2015.
Three years, many great singles and a few albums of equal value later, Micahs brandnew album "Roots I Vision" is based on the same tradition: Deep late 70ies and early 80ies Roots Reggae, chilled out and fair and beautiful. This record is not spectacular. And that's the spectacular thing about it. You need to take your time for this musical excursion. Just like Micah Shemaiah does. Then you get rewarded all the niceness of an analogue production, the elaborated arrangements, recorded with vintage instruments and Micahs meditative crooning, never leaving your head, heart & soul again. The eight songs and (sadly only) three dubs, recorded at Bridge Studios in Geneva, Switzerland, are setting a high standard at the very beginning of the year. The vinyl edition is almost sold out, only two weeks after its release and that raises hope to hear "Roots I Vision" adequately on a soundsystem dance. And that Micah – best with own band – will cross an ocean to play some festivals and clubs to continue conjuring his roots vision. Contrary to the above mentioned artist, he's got all the time in the world because his music is timeless.
Jah Army favourites:


Available at Evidence Music