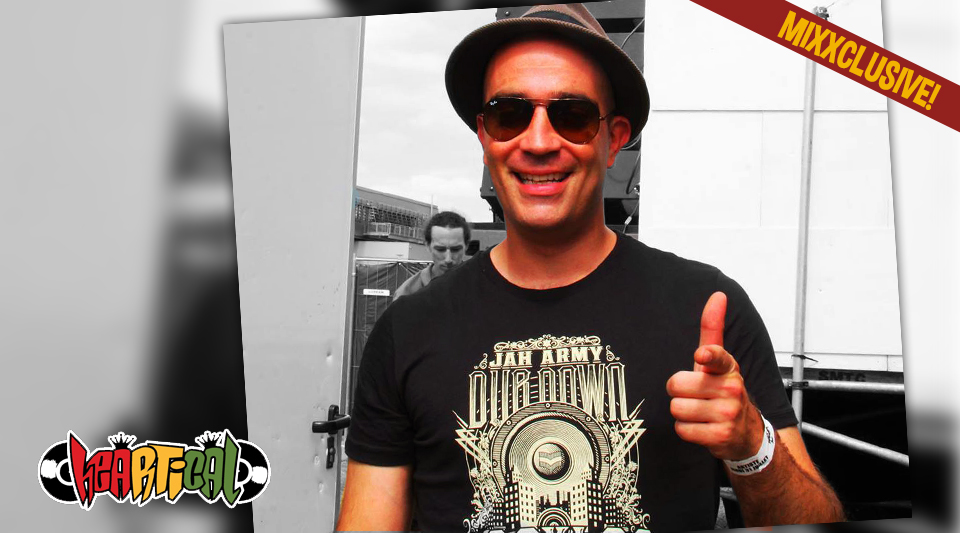 Mixxclusive… by Heartical Sound
Part II of our mixxclusive series features Heartical Sound outta Paris, France. We asked Sir Joe some questions, so read what one of the most busy french soundbwoys has to say and listen & download the free beautiful mixtape at the bottom of the page. Free download with artwork & tracklist for your irie convenience.
---
1)Please introduce yourself in 1 sentence.
This is the original Heartical Sound & Label from Paris,
playing Jamaican music since 1999 and releasing music since 2001.
2)Which musical experiences left the biggest marks on you?
There is a long list of musical experiences that left marks on me !
Playing our sound to back artists that were our heroes like Wayne Smith,
David Hinds (Steel Pulse), General Levy, Dawn Penn, Little Roy, Macka B or
Anthony Johnson.
Producing songs with some of our idols like Alton Ellis(RIP), Sugar Minott(RIP),
Wayne Smith(RIP), Lloyd Parks, Lone Ranger, Papa Kojak,
Ranking Joe, Silvertones, Johnny Osbourne, Ernest Wilson, Cornell Campbell,
Calrton Livingstone or Luciano to name but a few.
Visiting Jamaica for the first time and staying at Youthman Promotion camp
in Kingston, unforgettable experience, then also touring the world to play
our sound in unexpected places like India, Ghana, Thailand, Mexico, Israel,
Croatia, Finland, Sweden or America.
Also sharing the stage with sound systems that inspired us like David Rodigan,
Killamanjaro or Massive B and also clashing against Sir Coxsone, Luv Injection,
King Tubby's, Youthman Promotion, Rootsman or Supersonic…
3)Why do you love Reggae/Dub… music so much?
Because it's so much more than just music !
4)What was the spark that made you start burning for Reggae music?
In 1989, I bought the first ever released French rap compilation, "Rapattitude",
there were three massive reggae dancehall songs featured on it by Saï Saï,
Daddy Yod and Tonton David, those were my favourite tracks so it made me
want to know more about Jamaican music & culture, that's when I started
to investigate, and 25 years later I'm still learning each day !
5)Studio or live?
Both are needed if you are a serious soundman.
6)Vinyl or other format?
Vinyl will always be the first format in my heart, as a matter of fact, we are
still releasing 7" singles each year ! But you definitively have to move with
technology so I also rate other formats as long as
the quality of the music is preserved.
7)Lee Perry or King Tubby?
Can't do without any of them, both Perry and Tubby had a great
influence on Heartical Sound.
8)Which Reggae tune makes you cry and why?
"You and I (against the world)" by Mikey Jarett (Wackies label),
everything is in the title !
9)What's your favourite tune today?
Today I'm enjoying the tune "Selassie Souljahs" by Chronixx, Kabaka,
Protoje and Sizzla… Great new roots tune!
10)Anything you want to tell the world?
Live the life you love and love the life you live, it's a must !
---
Get this Mix exclusive at Jah Army Highwear