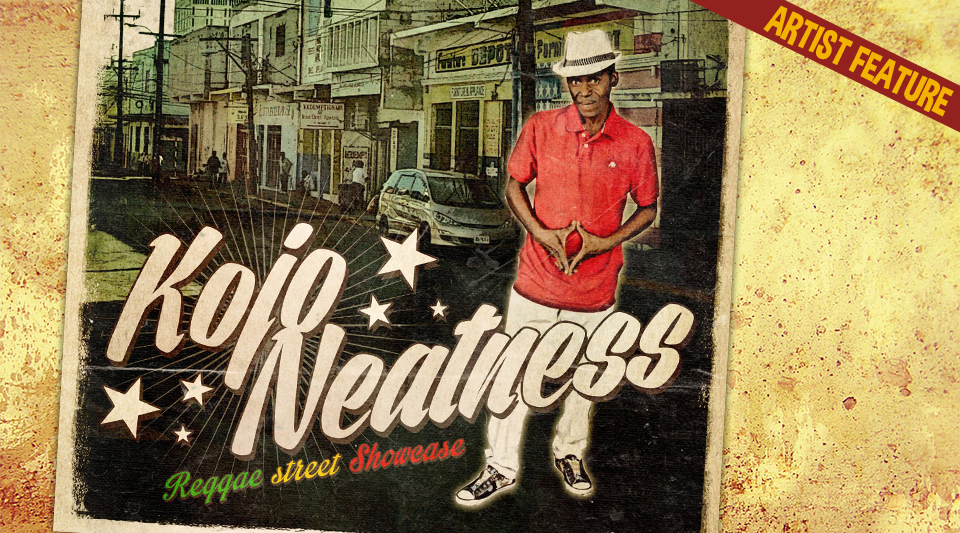 Insider's tip: Showcase album by Kojo Neatness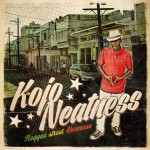 Not even two monts ago french dub-label Tube Dub Sound Records released a classical showcase album with almost forgotten jamaican roots singer Kojo Neatness. The man who sounds a bit like Horace Andy and Rod Taylor is one of the best hidden secrets, when it comes down to sweet reggae voices. We wanted to know about Kojo's personal Reggae Revival and hat a chat with him and his producer Fredread, responsible for the REGGAE STREET SHOWCASE.
---
Jah Army Blog (JAB): How did u meet and what led to producing an album together?
Fredread: The beginning of the story was the tune «Aiming» produced by Uniteam Records (Bordeaux / France). I really liked it. I used to do studiowork for Tom Uniteam with my own recording studio for Vernon Maytone's album and many other projects. This kind of roots & culture dub-reggae music produced by Uniteam is the style I love a lot. Tom's brother produced a couple of tunes with Kojo too. I also read on the web that Martin Campbell was a fan of Kojo Neatness voice. I really like this kind of singers like Linval Thompson, Hugh Mundell, Lacksley Castell… About two years ago I sent an email to Kojo, telling him I wanted to produce an album. As far as I know this would be his first album ever and I was really excited because I never produced a showcase album for one singer on TUBE DUB SOUND RECORDS.
JAB: How did the production work?
Fredread: When Kojo told me he was interested into recording that album I started creating new riddims. Ras Martin who used to play the sax with WEBCAM HI-FI came to my recording studio on the hill. It was the first step. We worked about one week on the ruffcuts, I sent them to Kojo and after his ok I started recording live instruments. It took Kojo one year to record the vocals of the six tunes for «Reggae Street Showcase». All vocals were recorded at All Fruits studio in Kingston, Jamaica. We wanted a strictly conscious roots rock dub & reggae music album, seen? Dub Inc. drummer Zigo (who also runs his own Greenyard Records label) played the drums, Ras Martin and I played bass, guitar, keyboards, percussions, syndrum & melodica. Some bredren like Mightybo from Askan Vibes played lead guitar on «Poor people». Man like Meekman played the nyabinghi drums on «Reggae street» and Philippe Maynard played lead guitar on «Rudeboy & police» and «Make believe». Finally Dub Inc. sound engineer Ben Jouve mastered the album.

JAB: Recently polish producer Dreadsquad recorded the dancefloor killer "Boom Sound" with you. More tunes are in the pipeline for swiss producer Don Ranking. How come there are so many european producers requesting collaborations with Kojo Neatness nowadays?
Kojo: I think its the roots and culture style they really like and also my voice. I&I give thanks for so much positive feedback.
JAB: How & when did your reggae career start and which albums & singles did you produce/release until now and for which producers/labels?
Kojo: My reggae career by the name of Omar Bernard started at a very young age about 1978 when I was 13 years old with a single called "Man a kill Man" and "Sitting And Waiting". Both for Calvin Cameron for LPA production.
JAB: Did the situation for Roots & Culture artists in Jamaica improve since upcoming conscious artists like Raging Fyah, Chronixx, Kabaka & Protoje seem to pave the way for a new movement?
Kojo: Yes it does improve a lot, the real people on the airwaves here they play real roots and culture again. For sure these artists do make a big change here, they give artists like me more new courage and hope.
JAB: There seems to be a big craze about soundsystems in France right now. There are pure soundsystem festivals and all big reggae-festivals like Reggae Sun Ska & Garance have big acts & soundsystem arenas. How is the situation in France for real roots-reggae & dubsoundsystems now? Are you being treated like real artists or only like Djs?
Fredread: You're right there are currently so many festivals and sound systems in France. It's growing up and up since 10 years and many people are involved in this scene. To be honest I'm not too much into it. I'm getting older! I've been playing with many bands and WEBCAM HI-FI soundsystem for the last 25 years. We toured the whole wide world but now I'm working in my own studio and also as sound enginneer for opera and theater. In my humble opinion the scene you're talking 'bout in France is more into uk stepper than real roots reggae. The people like up-tempo riddims, heavy-kick and bass and that's all ! Most of the youths coming to the sound systems have their background in the electro scene or «free parties». It's not about Rasta and real roots reggae. Everybody wants to build boxes and try to be soundbwoy. I prefer spending my life quiet on my hill and sometimes silence is my friend. Sound engineering is my job and I have to be careful wih my ears 😉 Concerning being treated like dj or real artist I think it's still more like a dj. In these times of confusion and roughness people mainly come to soundsystem events for entertainment and not to listen to rasta message and roots rock reggae.
JAB: I could only find Kojos album released as mp3 download. Will there be a physical release? If yes, when and which format and if no, why not?
Fredread: Currently it's only available as MP3 and no physical format as LP vinyl is really hard to sell. Times are getting harder and harder for underground producers. Difficult to even get the investments back. So we will see… Perhaps a 10 inch or a 12 inch with one tune by Kojo and the flipside with a tune by Mark Wonder. I'm actually working on it.
JAB: What are your plans for the future?
Kojo: I would like to just continue doing conscious music and I would love to tour europe, japan and the whole wide world. I just can't give up my music – it's a part of me.
Blessings, prosperity, one love and guidance.