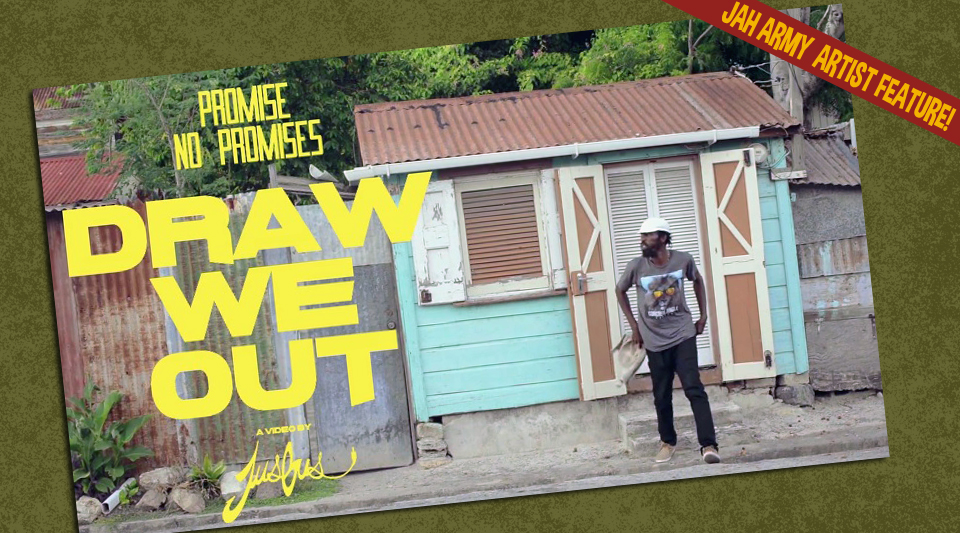 Reggae outta Antigua: Promise No Promises
A couple of days ago a new reggae music video has been released: "Draw We Out" by Promise No Promises. Major Lazer's Walshy Fire who also put Chronixx on the map for EDM lovers with the Start a Fyah Mixtape, signed again with his name. Jah Army nuh follow no hype but that tune is a hit and so we wanted to know more about that artist with the enigmatic name. We contacted him on facebook and asked him some questions.
Jah Army Blog (JAB): PROMISE NO PROMISES – this is a rather unusual name for an artist. Where does it come from?
Promise No Promises (PNP): The name PNP comes from playing soccer as a youngster. Everybody thought i was a real promising goal keeper, and used to ask for me to goal keep at the tougher games. So the name went from promising to promise, then somewhere along the way it turned into Promise No Promises.
JAB: You are living in Antigua. How big is the reggae scene in Antigua & Barbuda and are there any other artists apart from yourself?
PNP: The reggae scene is really big in Antigua & Barbuda, we listen to a wide variety of dancehall & reggae music here. And yes: there are many other reggae aritsts here apart from myself.
JAB: How long have you been doing reggae music and what have you been doing before?
PNP: I've always been writing and performing reggae music over the years, some serious years too , but at the same time I have always been doing acoustic and soca music which is also real huge here.
JAB: Have you been to jamaica and how was the impact? Whom did you meet and did you work with anybody musically?
PNP: Yes i've been to jamaica before but not to perform. I recorded two singles at Cave Man Studios back then which was printed to vinyl and brought back to Antigua. At that time I was more interested in the spiritual ting and spent most of the time in jamaica on the Nyabinghi Camp. It was more of a spiritual journey.
JAB: How come your new video is presented by Walshy Fire?
PNP: Walshy Fire is personal friend to the producer of the video 'Jus Bus' who sent him the video to review as a friend. Walshy fell in love with the video and track and said that the world needs to know about this artist and his new project. He then suggested that he presented it and after a bit of negotiation with my team (ZiggyBlacks Productions), it was done. The relationship has proven to be a very fruitful and productive one and its still growing.
JAB: You released not only the single but an entire album called "No Can Do". We couldn't find it on the internet though.
PNP: Actually the album has only been released in Antigua on hard copy CD's. The single "Draw We Out" nor the album isn't available anywhere else. international release date coming soon.
JAB: What's the album's style and who got involved?
PNP: The album is a full 17 track reggae album with a strong message. Same style like "Draw We Out". Songs were recorded by Brandon Browne and K. Mentor, mixed and mastered by Mac Les Music Factory for Ziggy Blacks Productions.
JAB: Are there any plans for a tour in the US and/or europe?
PNP: Yes there's plan for a full tour, dates are still being negotiated presently , but that information will be made public as soon as finalized.
JAB: What are your hopes & plans for the future?
PNP: My hopes and plans for the future is very simple, to keep creating music with a message that addresses the ill's within our societies and behavior, not just to identify it but to put the option of a better choice on the table then present it to the WORLD.
JAB: So do you have a particular message to the world?
PNP: Know thyself, every positive change begins with yourself!!
JAB: Give thanx for your time, words, music & spirit!
More info: Promise No Promises