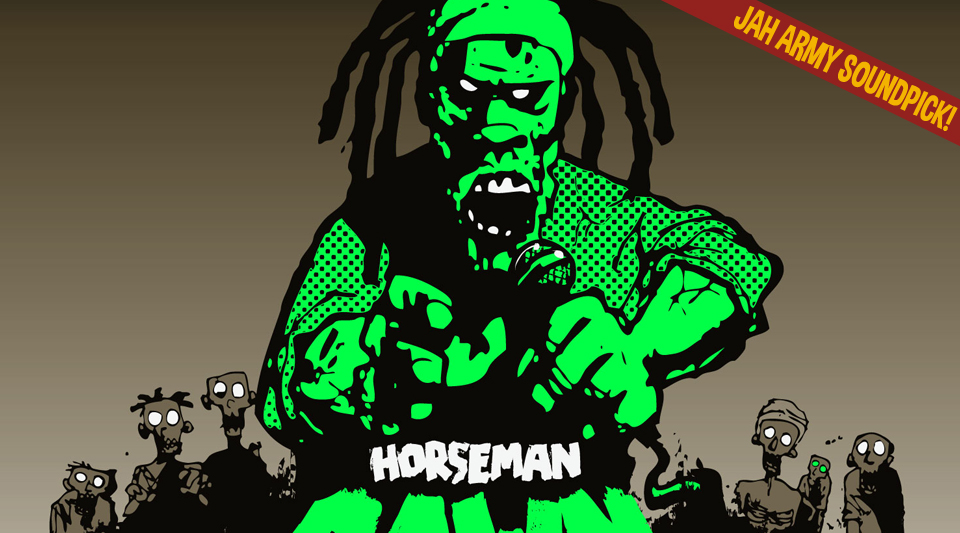 Horseman: Dawn of the Dread – a Prince Fatty production
I simply love Prince Fatty productions. That's where I first heard of oldschool deejay "Horseman". The live recording "Prince Fatty, Horseman and Little Roy Live in London" blew me away from the first syllables Horseman spat in the crowd. Four long years of waiting later finally the first Horseman longplayer has just been released on Mr. Bongo label. And it's different.
Especially after the earthshaking soundsystem appearance at Garance Reggae Festival earlier this year I expected some 70's roots rockers on a version excursion but it wasn't meant to be. Instead Fatty and Winston "Horseman" Williams went 10 years ahead in time and to a vintage studio in Thailand with all that original digital equipment and recorded a pure 80's digital album (mixed later in Fatty's studio in Bristol). Check the style on the tune "The Yout" which consequently features 80's UK reggae-icon Tippa Irie.
Horseman – who's also a very gifted drummer – smoothly proves to currently be the ruffest reggae riddim rider as he seems to be able to galloping through all decades of reggae easily. Funny B-horrormovie-like vocal samples and guest appearances by living legends Earl Sixteen (Sweet Reggae Music) and Winston Reedy (Ghetto) add extra spice to a crisp sounding, pumping album which takes you back to the future of digital reggae. Refined with that special Midas touch, embracing all Prince Fatty productions this is the dawn of the (digital) dread fi real!
And hopefully somebody will get in touch to produce some t-shirts with the wicked artwork of the album done by Jake! 😉