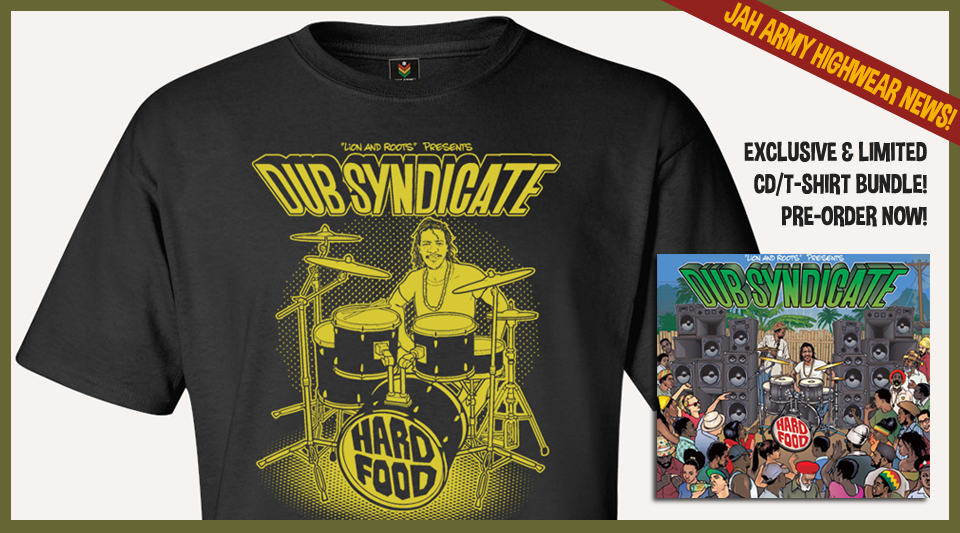 Limited Dub Syndicate CD/T-Shirt Bundle "Hard Food"
January 9th, 2015 will see the release of the brandnew album of one of the most innovative jamaican reggae & dub bands DUB SYNDICATE. Tragically drummer and mastermind Style Scott – also drummer and founding member of the fabulous ROOTS RADICS and CREATION REBEL – was killed in his house shortly after having finished the album "Hard Food". It is the first regular studioalbum by DUB SYNDICATE band after "No Bed Of Roses" from 2004. Including special guests like Bunny Wailer, Lee Scratch Perry and U Roy, dubbed, overdubbed & produced by On.U Sound boss Adrian Sherwood & Style Scott, "Hard Food" will surely set another – yet sadly final – milestone in the remarkable career of Lincoln "Style" Scott and DUB SYNDICATE.
Record label Echo Beach and Jah Army Highwear have been putting out a limited CD/T-Shirt bundle of the 2012 DUB SYNDICATE KING SIZE DUB compilation already and decided to team up again and respectfully offer another heartfelt bundle livicated to the great Style Scott. Rest In Power!
Listen a preview!
Dub Syndicate