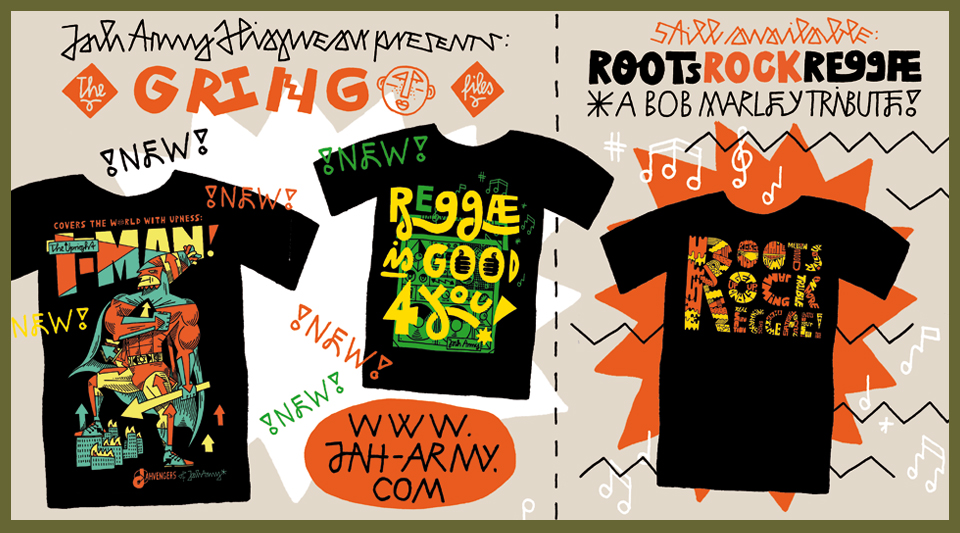 Jah Army presents: The Gringo Files
Nuff tings a gwaan at Jah Army Headquarter. After the successful ROOTS ROCK REGGAE design we teamed up with graphic genius Kid Gringo outta Heckert Empire again. And this is the amazing output:
"The Upright I-MAN" design is the first character of the JAHVENGERS of Jah Army series, coming to turn Babylon UP-side down. All JAHVENGERS shirts are strictly limited. Make sure to check the JAHVENGERS comic strip in the next issue of german #1 Reggae publication RIDDIM.
"Reggae Is Good 4 You" is a refix of one of the most successfull Jah Army shirts with the slogan that says it all and also strictly limited.
These are the first shirts available from our new partner Reggae Wear in addition with all other Jah Army products for your convenience. The Reggae Wear shop also offers different Reggae streetwear brands and has cheaper shipping costs. You don't even have to sign up for a new account! As irie as it gets!  😀
If in doubt you can always contact us here!
The shirts arrived fresh out of the press and will are good 2 go right about now. Only 100 pieces each and selling quickly so nuh slumber!
UP!NESS!
JAH ARMY HEADQUARTER